Neuschwanstein Castle
King Ludwig II's dream turned to stone.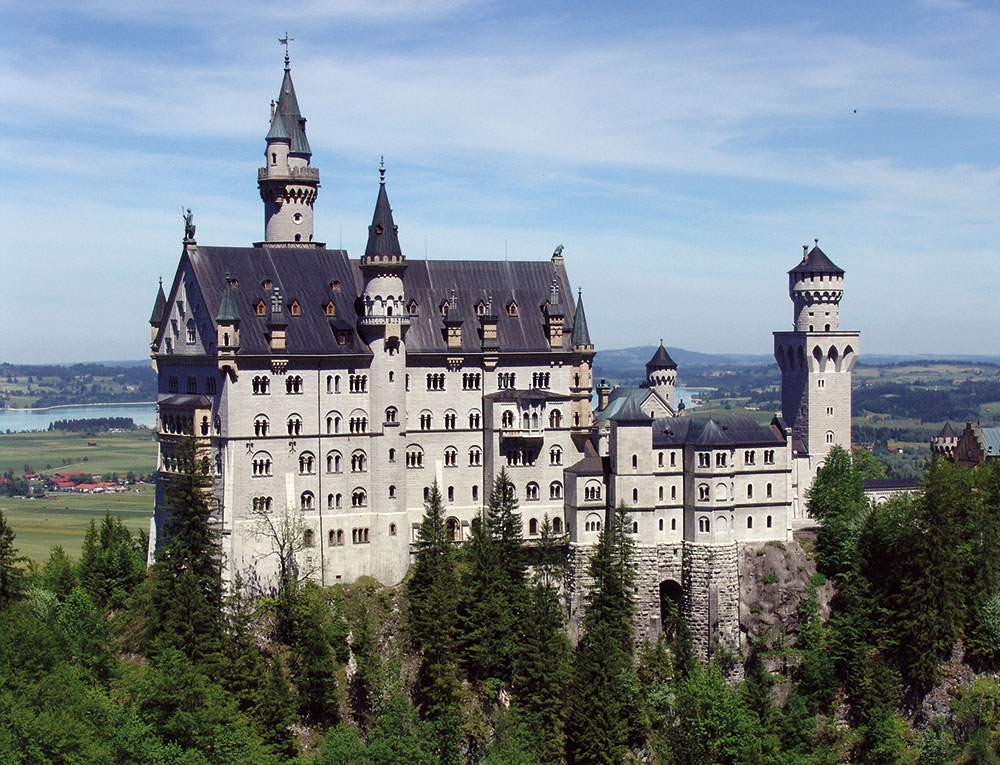 A narrow ridge to the left of the Pöllat with the name "Jugend" (youth) had appealed to King Ludwig II. He loved this place as much as his father Maximilian II. The mountain-loving royal family hiked a lot in this area – you can also discover the area around Füssen on royal hikes. Maximilian even had his wife Marie erect the Marienbrücke high above the Pöllat gorge in order to get better into the mountains.
Two castle ruins lay on the "Jugend": Vorderhohenschwangau and Hinterhohenschwangau. Here Ludwig II. planned his "New Castle Hohenschwangau", today known as Neuschwanstein Castle. He wanted to create an ideal of a medieval castle, equipped with the most modern technical achievements. The Wartburg Castle with its singer's hall served as a model.
The foundation stone for the castle near Füssen was laid on 5 September 1869. Ludwig II hoped for rapid construction progress, but the project was too extensive and the conditions on the mountain too difficult. The first thing that was completed in 1873 was the gate building in which the fairy-tale king lived for years. The topping-out ceremony did not take place until 1880, the first rooms could be occupied in 1884. Neuschwanstein Castle became the refuge of King Ludwig II. This castle in the Allgäu was his last place of residence before he was taken to Berg Castle on Lake Starnberg, where he died mysteriously shortly afterwards.
Today Neuschwanstein Castle is a magnet for visitors from all over the world. From the Marienbrücke bridge you not only have a unique view of the fairytale castle, but also of the imposing Pöllat gorge.
The Museum of the Bavarian Kings is located directly on the Alpsee below Neuschwanstein Castle. It shows the history of the Wittelsbach dynasty and its Bavarian kings. Hohenschwangau Castle, where King Ludwig II spent part of his childhood, is also located in Hohenschwangau.
Info:
Neuschwanstein Castle can only be visited as part of a guided tour. Tickets are available at the Ticket Center Hohenschwangau.
Phone: 0 83 62 / 93 08-30
www.ticket-center-hohenschwangau.de
Ticket sales at Neuschwanstein Castle:
Until 15 October 2018: 07.30 – 17.00, from 16 October 2018 – 31 March 2019: 08.30 – 15.00. The reservation office can be reached by telephone daily from 09.00 – 17.00 under the telephone number 0 83 62 / 93 08-30.
Can people with limited mobility visit the castle?
Basically it is possible. However, a reservation in advance is mandatory at the Ticket Center.
May photographs be taken in Neuschwanstein Castle?
No, no photographs may be taken in the castle itself. Animals are not allowed in the castle.