Worth seeing: The Museum of the Bavarian Kings in Hohenschwangau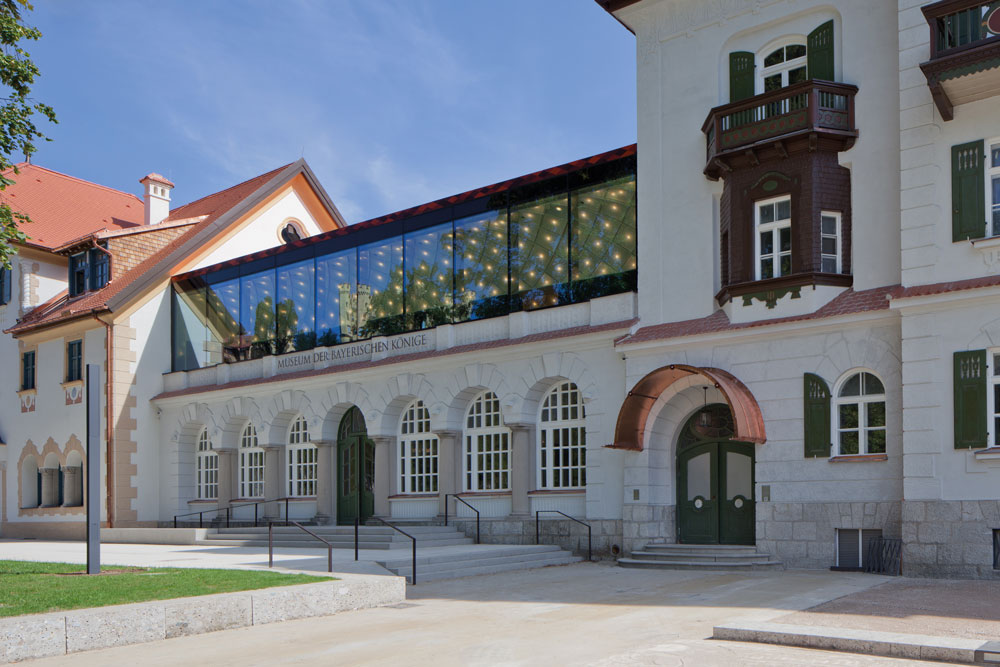 On an area of 1,200 square metres, on the shores of the Alpsee, the "Museum of the Bavarian Kings" presents itself in the former Grandhotel Alpenrose. Technically, architecturally and museum-wise, the "Museum of the Bavarian Kings" can be classified in the top league of museums. Here the mixture of tradition, modernity and elegance is right. The entrance to the imposing museum foyer, framed by two 1.40-metre tall Bavarian lions, gives you a better idea. The actual tour of the museum begins on the upper floor of the three-nave steel vault. The "Hall of Kings" shines here.
The third ship proves to be a genius with its 21-metre-long panoramic glass wall, which shows the view of the Alpsee with an optical gimmick. Because the frame of the glass wall is mirrored and depending on how the viewer positions himself in front of the window, he can see the castle Hohenschwangau in the glass frame, which stands on the right on a hill.
The museum's themes are diverse and extremely demanding – from politics, technology, art and business to social life and National Socialism – even the end of the monarchy is documented here and presented in an easily understandable digital and visual form. At the end of the tour, visitors can look forward to the museum shop, which offers funny and original "souvenirs" as well as non-fiction.
Informationen:
Parking: Alpsee car park (P4) in Hohenschwangau, which is directly opposite the museum.
Disabled access: Yes, there are two lifts in the building which can be used to visit all parts of the exhibition.
Seating options: Yes, through permanently installed seating or a portable folding stool that can be rented.
Opening hours: Daily from 9:00 to 17:00.
Family-friendly: Yes, an interactive children's tour is offered, which teaches the children the knowledge in a playful way.
Tours: take place in several languages
Address:
Museum of the Bavarian Kings
Alpseestraße 27
87645 Hohenschwangau
Phone +49 (0) 8362 / 88 72 50 · Fax: +49 (0) 8362 / 264 64 30
www.hohenschwangau.de