The Lute Maker Fountain
Place: Brotmarkt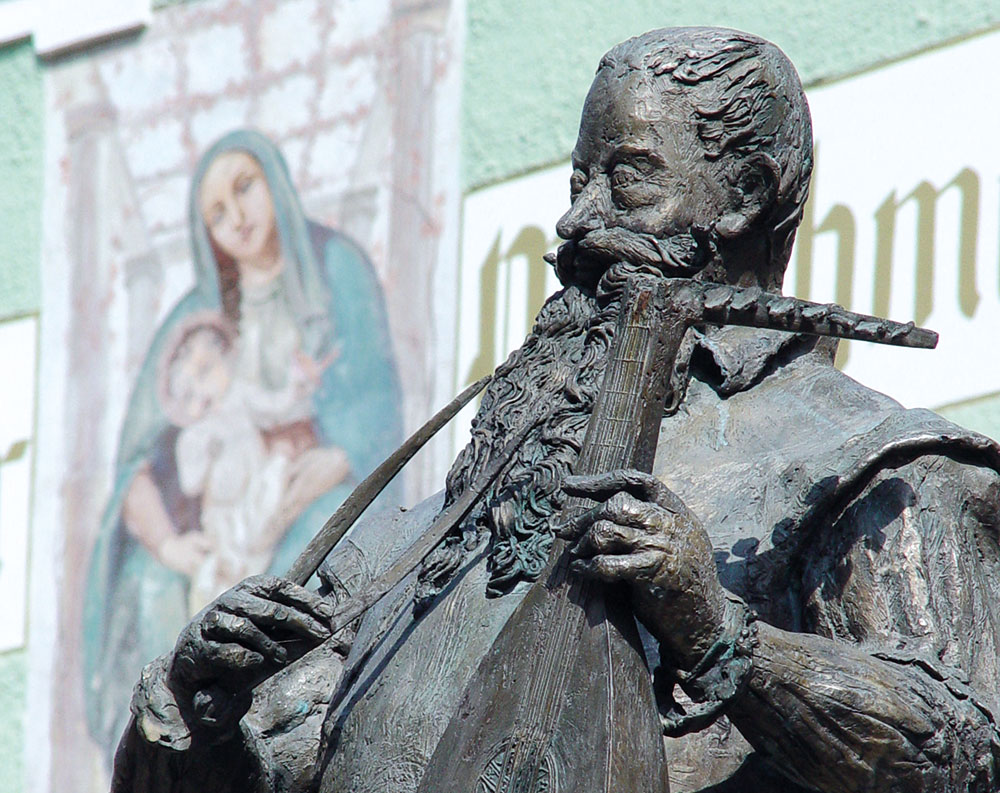 The fountain at the bread market reminds of the great tradition of making lutes and violins in Füssen. After a portrait of the lute maker Caspar Tieffenbrucker, Joseph Michael Neustifter created the bronze fountain figure. The instrument maker proudly presents his sounds to the viewer. The inscriptions on the fountain column document this special cultural-historical achievement in detail.
"Caspar Tieffenbrucker (1514 – 1571), born in Tiefenbruck near Roßhaupten, was the most important lute maker of the Füssen region. From his family came the most famous lute makers in Europe in the 16th century. Around 1550, Caspar Tieffenbrucker settled in Lyon and came to royal honours."
A workshop is shown in a detail scene, including the inscription:
"Lute makers have been known in Füssen since 1436. The Füssen Lute Maker Guild of 1562 is the oldest in Europe. The city was the centre of European lute making at that time."
Another relief illustrates labour migration. A lutemaker moves abroad with a trained hiking bag and sounds. "Füssen violin makers moved to many German and European cities: Vienna, Munich, Paris, Frankfurt, London, Rome, Leipzig, Naples, Venice, Prague, Padua, Budapest". The last representation shows a group of musicians with violin and lutes. "The lute making in Füssen reached its peak in the 16th century. The Thirty Years' War almost brought him to a standstill. In the 18th century Füssen experienced its heyday in violin making." At the edge of the well basin a wallet has been left, a tribute to the founder of the well, the savings bank.